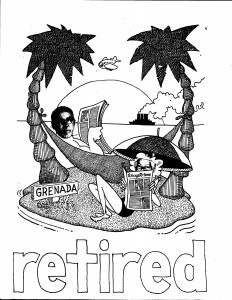 RETIREMENT – DICK'S STORY
Having written much about my own retirement story, I thought I'd share my husband Dick's story.
When we came to Grenada in November of 2013, neither of us had any set idea as to how retirement would play out. As it turned out, Dick found his niche much faster than I. One day he walked up to a school that was close to the piece of land we had sold & inquired if there were any schools for disabled young adults. He was told that there was a home for disabled young adults practically next door. He went & introduced himself to the director, told her he had worked in a high school for disabled children in Chicago & asked if she thought he might be able to volunteer. She was very eager to have him & so he started working at the Hopkins Centre in January of 2014.
It was soon apparent that the Centre was functioning with limited funding & limited staff so there wasn't much to stimulate the young people. Drawing on his knowledge of activities for variously abled people he began devising activities that all could participate in, regardless of ability.
The first was dominoes, which is a big thing in Grenada. The first set he made out of cardboard but the frequent use made that impractical so he bought a regular set. The most amazing thing is that some of the players have no speech, some have severe physical limitations, none know numbers or the alphabet & yet, soon all were playing dominoes & delighted to be doing so.
Next came flash cards with words & pictures for the words. While still none could read, they were able to recognize the pictures; soon after, some were able to put together the right letters to match the picture.
Next came beat the clock, which entails putting objects into appropriate spaces while being timed; then came bowling. The set was made up by Dick of soda bottles, which he filled with stones & poured glue over the stones so the bottles would not fall over before they were hit with the "ball". The "ball" was made up of a calabash (a gourd that grows on trees here & is used for a variety of household containers), or an old, small coconut.
As some of the youngsters are high enough functioning to go to school, Dick decided that in order to make the rest feel like they were not excluded, he began giving them "homework", which consists of coloring or other simple things. Now, of course, they needed to have folders into which to put their "homework", so he bought them all folders.
And so it goes with the young people learning skill, learning to interact & cooperate with each other, following simple instructions and most important of all feeling that they are worthwhile and cared for.
July 2016
+++++++++++++++++++++++++++++++++++++++++++++++++++++++++++++++++++++++++++
RETIREMENT- LIFE RE-IMAGINED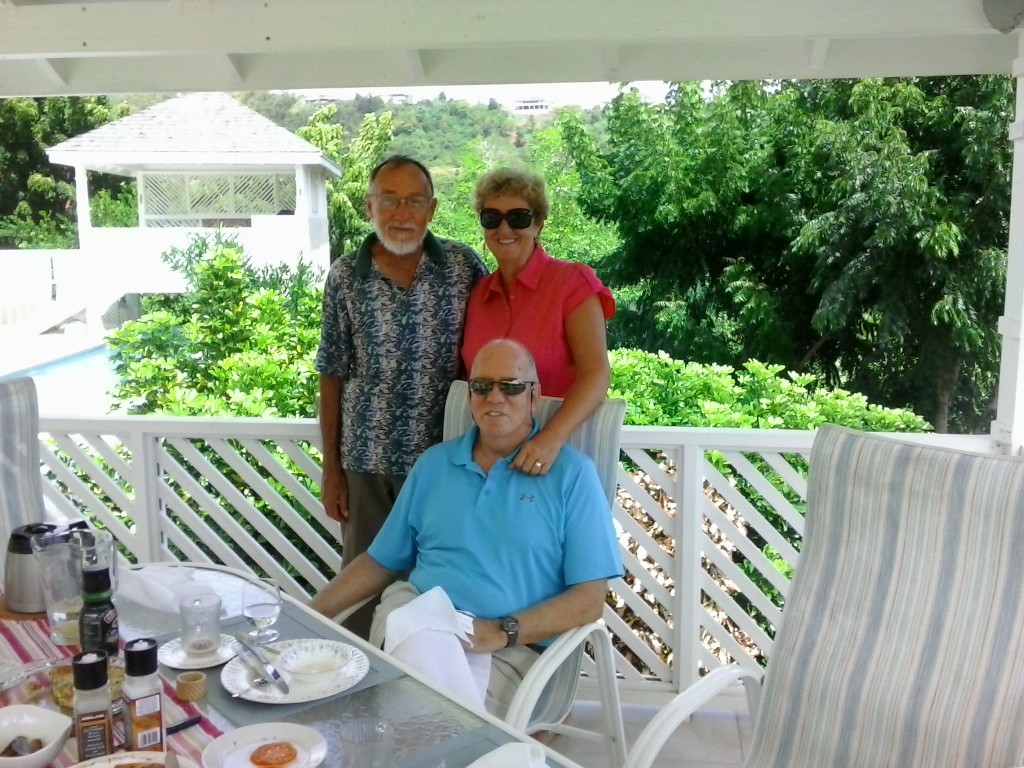 CREATING OUR OWN COMMUNITY OF FRIENDS
One of the most challenging things when I retired to Grenada was how to find new friends. There are only a limited ways this can be done so the first year was a bit difficult. While maintaining old friendships back home is critical, those friends often find it hard to relate to my new life, so finding friends who live here & share my experiences became a necessity.
Depending on the size of your new location, some of my methods may work, though for me, it has taken some effort. Here's what I did:
I joined the local association for retired persons & have taken every opportunity to volunteer with programs or anything else that needed to be done. As a result, I've met some interesting, active, lively people. Though I can call several my friends, culturally, friendship here is not the same as back home. An invitation to dinner will not necessarily result in being invited back. However, I choose not to keep tabs but spend time with the people I like.
Chance meeting in supermarkets, at the market, hairdressers, etc. When I reached out & talked to people, asked about how they chose Grenada, in several instances a friendship developed.
Online communities are another good way to "meet" people. I write guest articles for several sites which address issues of interest to me. One of the most fun has been a site called Women Who Live on Rocks, which features articles by women who live on islands all over the world. The stories are humorous & all of us who live on islands can relate to them. Two women responded to one of my posts and they live in Grenada. I followed up with one, met she & her husband, had a great time. I'm keeping in touch with the other one who is currently in the US. We agreed that we'll get together when she returns to Grenada. A third one was volunteering with the monthly book exchange for the Grenada Association of Retired Persons. She was introduced to me, looked at me with a quizzical expression and said " I know you", well I was sure I had never met her, so I responded that Grenada being a small island, it was possible we had run into each other.  She said that wasn't it and suddenly remembered that she had read my article on Women Who Live on Rocks. In chatting we discovered that we share a lot of things and made plans to get together.
What matters to me is to find a group, a site, a committee which is of interest and then join, do some volunteering, take a risk, reach out, write, persist and eventually I've found new friends.
Here are the sites I've written for:
Consider trying these and doing some research of you own.  Good luck!
+++++++++++++++++++++++++++++++++++++++++++++++++++++++++++++++++++++
RETIREMENT THREE YEARS ON
Hard to believe it's nearly three years since hubby and I retired.
The road we've traveled has not been the one we originally imagined but it's been challenging, fun and rewarding.
It's only in the past few months that I feel Grenada is truly my home. I can now walk down the street, go to the supermarket and be greeted by any number of people I know. When I read the newspapers, I find myself not just a spectator in the comings and goings of business leaders, politicians, educators but avidly following their various stories.
None of the original projects I was going to pursue have worked out and while I haven't totally given up on somehow recording the oral history of Grenada, I've gone in a new direction, not even on the radar originally.
I have become very active in the Grenada Association of Retired Persons, have just been appointed to the Executive Committee and have instituted, and now manage, a monthly book exchange. I had no intention of getting involved in a volunteer organization, yet here I am. I've met some tremendously interesting people, attended some unique events, have done and continue to do workshops on retirement while at the same time learning much about the culture of the island, I would not otherwise be able to learn.
Dick continues to volunteer at a home for disabled young adults and amazes the youngsters and the staff with the many ingenious ideas he comes up with to entertain and instruct the residents.
Bottom line? For Dick and me, we have found the secret to enjoying our retirement, we've scrapped all our preconceived notions, been open to new directions, let things evolve, and enjoyed the freedom of exploring all possibilities.
+++++++++++++++++++++++++++++++++++++++++++++++++++++++++++++++++++++++++++
RETIRING WITH A FLAIR, TWO YEARS ON
So how has retirement gone two years after leaving Chicago? Not the way I had imagined it but very enjoyable nevertheless.
Acclimating to Living in Grenada
Though I had visited Grenada many times during the years I was planning to relocate permanently, the reality of actually living here turned out to be a huge challenge. Food, people, climate and figuring out transportation were the easy part. Figuring out the ins and outs of home purchase has turned out to test our patience to the limit; bureaucratic frustrations abound, we're still not in our own home.
 Projects to Keep Me Occupied and Challenged
I have gone through 4 different project ideas before settling on my current one of videotaping elderly and young Grenadians to create an oral history. The written historic record of the island is often spotty, so the recollections of elderly people are important to record and preserve that history. However, even getting this project going has been a challenge. People often promise to co-operate, only to get cold feet and withdraw. Being videotaped is not as common here as in the US, so people often don't understand my purpose and don't trust me. I keep plugging away at it and am now ready to tape at least the first 4 people.
What has been a success and great fun is setting up this web site to write about all the things that interest me: travel, entertaining, food, health and fitness and how to be a happy retiree.
 Community Involvement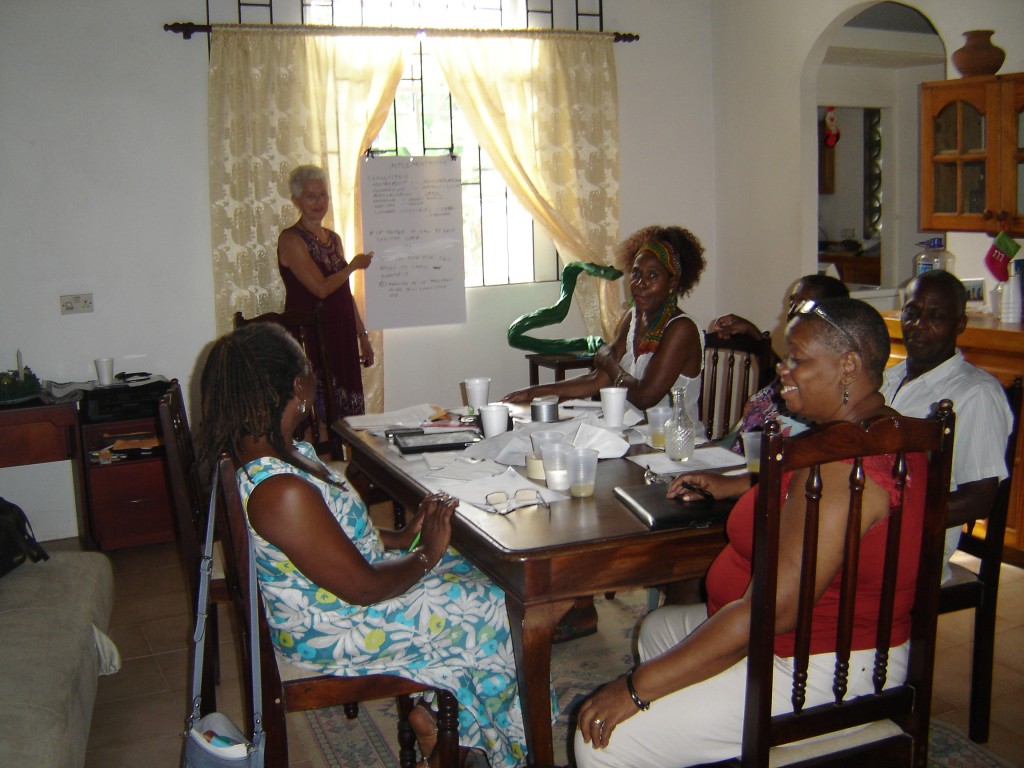 On a whim a couple of months ago I called the office of the Grenada Association of Retired Persons (GARP) asking if I, as a non- Grenadian could join. The executive director received me with great enthusiasm and warmth and I have now become very active, doing presentations on various topics.
Social Life
When we first came down in November of 2013, there was a couple who had been friends for many years and we were able to re-connect. Shortly afterwards, we met a Canadian couple who live close by and we have become good friends with them. We've met several people through the Grenada Association of Retired Persons; one couple will be our neighbors when we finally move into our home. Slowly but surely we are beginning to feel that we are truly settled. It's wonderful to be walking down the street and be greeted by people we know.
Bottom line for me/us has been:
Don't rush it
reach out
keep looking for something to be passionate about
don't give up if the first few ideas don't work out.
Best of all, there's no pressure; this part of the journey has been all about ME.
==========================================================================
DIVORCE AND REMARRIAGE IN MIDLIFE
Following up on my previous article about relationships, divorce is a traumatic life event at any time. In midlife, however, it is even more difficult. I went through a particularly painful divorce which included leaving England, returning to Chicago after nearly a ten year absence with a five year old, four suitcases, about $300, no job, being housed in my best friend's one bedroom apartment.
In spite of all this, somehow I knew that I would marry again. The intervening four years were quite a challenge. In the days before the numerous internet dating sites that exist today, the only alternatives were friends and family introductions, bars, workplace and chance encounters. My family and friends were not helpful, bars were never an option, my workplace offered no possibilities and chance encounter was too uncertain. Then I stumbled on Chicagoland Dating Service, started by two women as an alternative to the above choices. People looking to meet and date, sent in their info – no pictures- a brief biography, what they were looking for in dates and a phone number. Men paid a minimal amount for names to match their potential dates, women received names free. The dating game was another challenge. It had been 12 years since I had dated and things had changed in that time. Women now called men, they paid for the date, and sex in mature adulthood was seen as no big deal. I adapted where I felt comfortable doing so and kept my own ways where needed.
After kissing a lot of frogs, my prince came along and we were married a bit more than a year after meeting. That was 33 years ago.
So from my own experience, here are some items for consideration:
To remarry or not
What criteria to use to choose a suitable partner
How soon to introduce the prospective candidate to family, especially young children
How to handle the prospective partner's children and other family members, who might not be eager to accept a new spouse
How to handle finances
As I said at the beginning, somehow I always knew I would remarry. As to the criteria, I worked backwards from characteristics I knew I would not accept as well as focusing on common interests and qualities I wanted: loyalty, humor, an ability to let me do my own thing, ability to communicate, handle conflict without being vindictive and definitely no jealousy.
When the relationship became serious, I introduced my newly intended to my then nine year old son, who seemed rather indifferent. I met his two teenage daughters, who were very sweet and supportive. His son was away then but when I finally met him, we got along well. I'm extremely lucky that my step children are such great human beings. His mother was willing to give me a chance.
It took a while to get finances into some semblance of reason since I was still hurting from having lost everything.
It's good also to remember that family issues may not be easy. It's best to not try to replace/outdo/out parent the former spouse but to be easy going, accepting and offer an open heart to all concerned.
While all this is hopefully a guide, what is most important is to be open, be willing to take a risk and believe that happiness is possible no matter how painful the past experience may have been.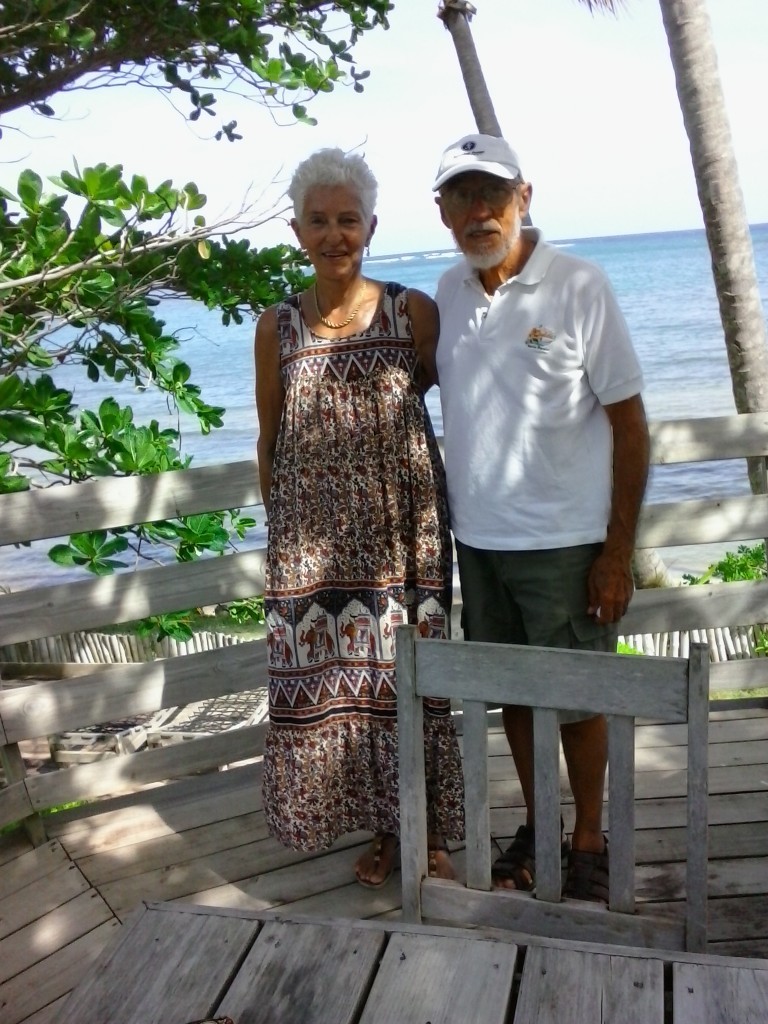 CHANGING RELATIONSHIPS IN RETIREMENT
One of the challenges of retirement is dealing with the changing relationships at this new stage of life.
For those who are married or in a long term committed relationship, these changes may be obvious or subtle but an honest discussion and expression of expectations is always the best way to deal with the changes. Here are some issues:
How will we handle being together all day, every day? How and when do we provide each other with alone space? Is it OK to engage in separate activities?
Who is going to be responsible for decisions, big or small? Will it be the same person all the time or is it OK to switch? How will this be different from the previous pattern for us?
What kind of social life will we have? Who is going to reach out to new and old friends?
For those who have children and grandchildren, there are important issues to look at. As we age, our children begin to worry about us as we've worried about them all their lives. They may see us differently from how we see ourselves; they may question our decisions, our health, and our independence. How do we respond to that without upsetting them but letting them know that we are capable of taking care of ourselves and have made provisions for when that is no longer the case. We need to give them copies of our wills and let them know how we expect to handle end of life issues.
Some of us now have grandchildren who have grown up and that changes our relationships to them. We need to recognize their ability to make independent decisions, support their life choices or advise them against unwise ones. While it remains important to defer to their parents, there are times when they turn to us rather than parents. We need to respect their desire for privacy and encourage practicing good judgment. Leaving the door open so they feel comfortable sharing their thoughts, hope or problems is the key to maintaining our good relationships with them.
Our relationships with our friends is also going to change. We all get set in our ways and sometimes it's difficult to remain open minded to choices our friends make with which we may not agree. The best way to maintain our friendship is to accept wherever our friends are emotionally or physically. No one gave any of us a handbook on how to do this retirement thing.
++++++++++++++++++++++++++++++++++++++++++++++++++++++++++++++++++++++++
WHEN YOU DECIDE TO RETIRE ABROAD
Many Americans, including some friends & myself have decided to retire abroad. The reasons are as varied as we are. While living abroad has many advantages, there are some issues to deal with & it's best to know what these issues are before the move is made. Though I've been coming to Grenada, my chosen retirement paradise, visiting is not the same as living here permanently. Here are some of the issues to be aware of:
How & where will your money be parked? Where will you receive your Social Security, pension, annuity, etc. How safe is the banking system where you've chosen to live. Fortunately, Grenada has an excellent banking system, with several banks to choose from. They all have online banking as well as all the other customary banking services. Opening an account, however, can be daunting. The volume of paperwork required is overwhelming, delays are the norm. On the positive side, the island is fiercely vigilant against money laundering, so the caution is understandable & welcome. I also chose to keep my main banking with my bank in Chicago. As and when I need to have money transferred, it is done electronically & is very easy to do. Keeping a US account makes receiving retirement income of any kind much easier.
PERMANENT ADDRESS/ MAIL DELIVERY. This has been a challenge. There are businesses that handle mail forwarding (the US Postal Service only forwards for a limited time) and except for the delay in getting mail, it works pretty well. The cost is minimal & no mail is lost. We also have a local mailing address and a permanent US address. Best to cover all bases.
REAL ESTATE. Whether deciding to rent or purchase a home, it's critical to be aware of local business practices, comparative prices, legal issues of ownership, etc. Most places in the world have nom multiple listing service, no exclusive listing, some have no code of ethics, no licensing laws, so it's mostly buyer beware. Attorneys usually handle the transaction, once a property's been identified. Financing is available in most places but interest rates may be high, so , if possible, be a cash buyer. Leases may or may not exist, terms may be vague or non existent, so again, have a good attorney review the lease before you sign.
TAX LIABILITY. For most of us, this is tax on goods, services or real estate purchase or sale. Grenada, like many other places has a sales tax, called VAT (value added tax), added to purchases of goods or services. I always try to calculate that when looking @ the price of something. Property can be purchased by foreigners but the tax is onerous, 10% of the purchase price. In addition, a Foreign Land Holders' Certificate must be obtained before closing the deal. Make sure, wherever you choose to live, if any of these apply & proceed accordingly.
Take a few exploratory trips to markets/supermarkets before you make the permanent move. Food supplies are plentiful in Grenada, as they will be in many other places.
However, many items are imported from different countries & the cost reflects that. Local food isn't what American palates are used to so, be brave & experiment.   Buy @ the market or locally produced foods whenever possible. The up side is that almost everything you buy here is organic. No pesticides (or minimal), cage free animals, fish fresh out of the sea to the vendor, prepared as I want it & in my freezer within hours.
LOCAL CUSTOMS. Be aware of the differences. Attire, forms of address, written or electronic communications will sometimes be different from what they are in the US.
Once you've mastered all the above, sit back, relax and enjoy your chosen new home.
+++++++++++++++++++++++++++++++++++++++++++++++++++++++++++++++++++++++++
MY LIFE IN GRENADA
I'm often asked by friends and family, "So what do you do there on your island?"
Since retirement is a journey with unexpected twists and turns, my life here isn't following a straight road. Being someone who is never content to just sit and read or watch TV or window shop, I've had numerous ideas on how to remain active in a meaningful way while contributing something to my world.
This web site is one that is fun, challenging and keeps me busy several hours a week, as does producing my newsletter. Sharing thoughts and information about subjects that interest me is a pleasure.
One of the projects I've been working on for some months is to videotape a man known throughout Grenada as " Pappy." He is an oral historian, an herbalist, a producer of alcoholic and non-alcoholic beverages and remedies for an assortment of ailments. That at age 80 he's hale and hardy, still works his land is a testament to his use of his own concoctions. He graciously agreed to allow me to video tape him. Accomplishing this has been a real challenge. Things move slowly in Grenada, new ideas by foreigners are not necessarily welcome; protocols that may not make sense to us have to nevertheless be followed. I'm now working on proposing the idea to the 4th and 5th person. Since patience is not one of my virtues, this has been a good exercise to develop some. I will update my progress from time to time.
So what else do I do?
Every First  Wednesday of the month there is a book exchange where all sorts of people bring books and take some away. The minimal entry fee goes as a donation to charity as well as towards coffee. This isn't just a book exchange, however. It's a meeting place, a social event for locals, members of the yachting community, vacationers or just any avid readers.
This past weekend was an annual plant sale fundraiser, held at the spectacular home of a lovely lady who works very hard organizing this event. Not only can one buy an incredible variety of plants, tress, bushes, and herbs and just about anything else that grows but high teas is served the latter part of the afternoon. There's also a raffle of all sorts of things, not just plants. As the book exchange, this event is also a social gathering, many people come from a good distance and this is an opportunity to catch up with friends one doesn't see often.
My husband and I enjoy gardening; we grow an impressive variety of vegetables and herbs. Because of the climate, it's very easy to grow things all year around. A bean seed planted can be harvested in six weeks. The dilemma is how much produce to share with bugs of all kinds, some pretty destructive versus the use of pesticides. So far, we have not used anything stronger than soapy water to discourage critters.
Next time more activities in my personal paradise.
Please send me feedback; I love to hear from visitors to my site.