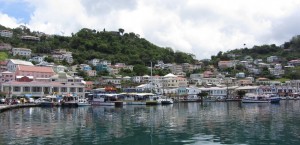 The Next Chapter
Welcome to my web site and welcome to my life in retirement!  I am Maria Davies and I hope you enjoy the information contained within this site and will return again and again.  Please check back regularly as I plan to make additions frequently.
Though I've had an incredible life up to now; it's time to write the next chapter.
I was born and raised in Hungary, went to school in Germany, finished school in Chicago, worked as a social worker, helped run a 220 foot sailing charter yacht, was a REALTOR, married twice (some of us have to do it twice to get it right), had son, embraced three children when I married the second time and have nine grandchildren. Now I'm living my dream of 38 years in my personal paradise of Grenada.
Now, I start the next phase of my life. Having had the varied and unusual experiences cited above, I thought it might be fun to establish a web site and share my passion for mentoring, food, travel and fitness with like minded people.
Enjoy this site!
Since we went live with this site, many of you have sent me feedback.  For which I thank you.  As much as I'd like to respond to you individually, the sheer volume makes that impossible.   Here's a heartfelt group thank you.  If you have asked about how this site is created, please note I use WordPress as my template.  You can access their home page if you scroll down to the bottom of my site.