THE BANANA STORY
As I look out on the four banana plants in my back yard that are now in various stages of flowering and bearing fruit, I wonder where they come from and how they got to be so popular.
The challenge for me and my neighbors as well as many Grenadians is what to do with such an overabundance.
HISTORY
There seems to be no one definitive history of the banana. Some sources cite evidence of them being cultivated in New Guinea as early as 8000BC while others credit Alexander the Great with discovering them in India in 327 BC and bringing them to the western world. There's also no agreement where and how they were introduced to the United States. It appears that they arrived sometime around the late 1880's
BENEFITS
Reading the list of benefits almost requires a degree in chemistry. Almost like mother's chicken soup, it's good for what ails you. The adage "An apple a day keeps the doctor away" might as well be changed to "A banana a day keeps the doctor away." I've added a couple of web sites that detail all the benefits.
DIFFERENT WAYS TO ENJOY THE BANANA
The yellow, curved fruit is what we are used to, but bananas can be eaten in a variety of ways. I love to make a "potato" salad from cooked green bananas. While it's not easy to peel them when green, the effort is well worth it. When they are a little riper, still green but less deep green, I like to peel, slice very thin, deep fry, salt a bit and eat them as a snack; when ripe, I use them the same way most everyone else does; when they are slightly on the overripe side, I use them to make banana smoothies, banana bread, puree and mix with peanut butter for sandwiches, peel and cut them in half lengthways, freeze them and when defrosted they taste like banana custard; I put them in a baking dish with nutmeg syrup ( any syrup or honey will do), put a few pats of butter on top and bake them briefly in a slow oven. Try these recipes and tell me how you liked them.
Useful Websites
Tips for Optimum Health:
BETTER EATING CAN START TODAY.  One day at a time.
I don't allow myself to get hungry. I have established an eating pattern that works for me and stick to it.  I usually don't allow myself to grab unhealthy snacks because I have skipped a meal.
I stay hydrated.  This sounds simple but it's a common error to not pay attention to our bodies. I have found that a glass of water, an apple (84% water) will silence hunger between meals.
I've discovered that there are no quick fixes, no miracles. Changing habits takes time and discipline.  Keeping a food journal has helped me to make healthy changes.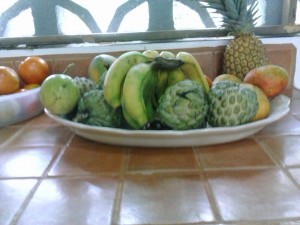 Other Approaches That Have Helped
I try to ignore the continuous barrage of food ads.  They intentionally make us want to eat even if not hungry.
I try very hard to not handle stress by eating. I have found a quick walk, a stretch and some deep breathing or talking to a friend help me more.
I am not seduced by the Hollywood/Vogue Magazine beauty standards. Celebrities earn their living by looking/living the way their public wants them to. In my opinion, that is not a healthy life style.
Helpful Links
http://www.chatelaine.com/health/do-diet/
For those who are not familiar with this wonderful Canadian magazine, take a look.